Yummy and delicious food is the perfect delight for the food lovers. Add this latest Peshawari Biryani in your recipe diary. It is a delicious addition to your home cuisine. You can try it at home and feed your family and guests.
INGREDIENTS
1 cup rice
11 cups dried beans (both red and white), kabuli chana, black gram and green peas
3 tbIsps butter
chilli powder to taste
1 tsp turmeric powder
1 piece ginger (minced)
2 large tomatoes (peeled and pureed)
1 cop each of beaten curd and cream
2 handfuls coriander and mint leaves
4 thIsps ghee
2 cloves
2 large cardamoms
1 piece cinnamon stick
salt to taste
a few drops of orange or
red food coloring
25 grams each of fried
sins, cashewnuts, almonds
a few fresh rose petals
a few drops of rose or kewda essence
silver or gold foil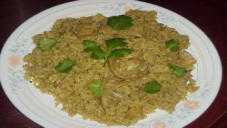 Pakistan Peshawari Biryani Recipe
METHOD
Soak the beans and gram in water for a whole night. The next morning, cover with plenty of water and boil till soft. Re¬move from fire and strain the water (into a separate vessel). Boil the green peas. Melt the butter and add the chilli powder, turmeric, and then the ginger and tomatoes. Cook till the tomatoes turn thick; then mix in the curd, cream, coriander, mint, gram, beans and peas and cook till very thick. Remove from fire and keep Warm. Heat the ghee and fry the cloves, cardamons and cinnamon. Add the rice and fry for 5 minutes. Now pour in the water in which the beans were boiled, along with the heat and cook till the rice is tender and dry. Then mix in raisins, nuts, rose petals and essence and remove from, tire. Arrange the rice in a thick ring on a flat serving dish and cover with foil. Heap bean and pea mixture in the center of the ring and serve immediately.