Try making tantalizing Sindhi Prawn Pilaf Recipe at home by following this simple recipe posted on the page online. Serve it hot for lunch or dinner parties for special guests. Give us your valuable feedback in the comment box.
INGREDIENTS
• Prawn 1 cup
• Rice 2 cup (soaked in water for half an hour)
• Garlic paste 3 tbsp
• Mustard seeds 1 tbsp
• Turmeric 1 tsp
• Red chilli powder 1 tbsp or to taste
• Green chillies 4 - 5
• Fresh coriander 1/2 cup (chopped)
• Salt to taste
• Oil 6 tbsp
• Water 3 cup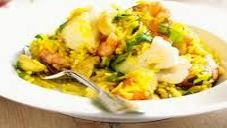 Sindhi Prawn Pilaf Recipe
METHOD
• Heat oil in a pan and add mustard seeds.
• When mustard seeds stop sputtering, add garlic paste, red chili powder, turmeric and salt.
• Cook for 2 minutes add prawns and stir fry for 5 minutes.
• Add water and bring it to a boil.
• Add salt and drained rice.
• Cook the rice till water almost dries.
• Immediately cover the pot with a tight lid and cook on very low flame for 10 - 15 minutes or until done.
• Remove the lid before serving and mix in green chilies and coriander and serve.