Sadhya
The traditional authentic Kerala meal, Sadhya is served with rice and 12-20 dishes in a fresh plantain leaf. The most popular festival in Kerala Onam is incomplete without this traditional meal.The preparations for sadhya is simple and so it is the mostly served meal for weddings and other functions in Kerala.
Erissery
(Pumpkin and Lentil Stew)
Filled with healthy ingredients of gram and pumpkin, is one of the traditional kootan in Kerala cuisine. The blend of coconut and other spices (cumin, turmeric, etc) along with the vegetables is amazing. It is should be savoured with hot rice for a better experience. Erissery is one of the main side dish (kootan) served in sadhya.
Thalassery Biryani
The prominent cuisine from Thalassery the northernmost town in Kerala is a special biryani with relishing aroma and taste. Made of kaima or biryani rice, authentic masala made of specific spices and dry nuts and stuffed meat, this dish is made especially during the celebration of Eid in Malabar region of Kerala. The dish is especially savoured with curd, lime pickle (naranga achar) and salad.
Naadan Kozhi Curry
The red piquant Kerala chicken curry is a perfect blend of spices and meat. If you are hardcore non-vegetarian, this is a must try. You can have naadan kozhi curry with almost anything- plain rice, ghee rice, pulao, biryani, naan, pathiri, chapati and even with a piece of bread. It is a mouth-watering dish.
Erachi Varutharacha Curry
(Fried-Ground Mutton Curry)
Indulge in the marinated beef in roasted coconut gravy, especially the chipped coconut which is delectable. Erachi varutharacha curry could be had with puttu and appam. All of them are a finger-licking combo in Kerala cuisine.
Ada Pradhaman
Very sweet dessert with spices and nuts, ada pradhaman is the king of kheers in Kerala. With a warm and pleasant aroma, this payasam or kheer is a unique blend of thick coconut milk, jaggery and baked rice adda. It is specially served at the end of a sadhya as a dessert.
Chatti Pathiri
With similarities to Italian dish lasagna, chatti pathiri is layered pastry mostly prepared in Northern Malabar region. This sweet is made of flour, egg and oil and specially seasoned with cardamom and other spices along with nuts and dry fruits-One of the major dish prepared at the end of Ramadan fasting period.
Coconut Toddy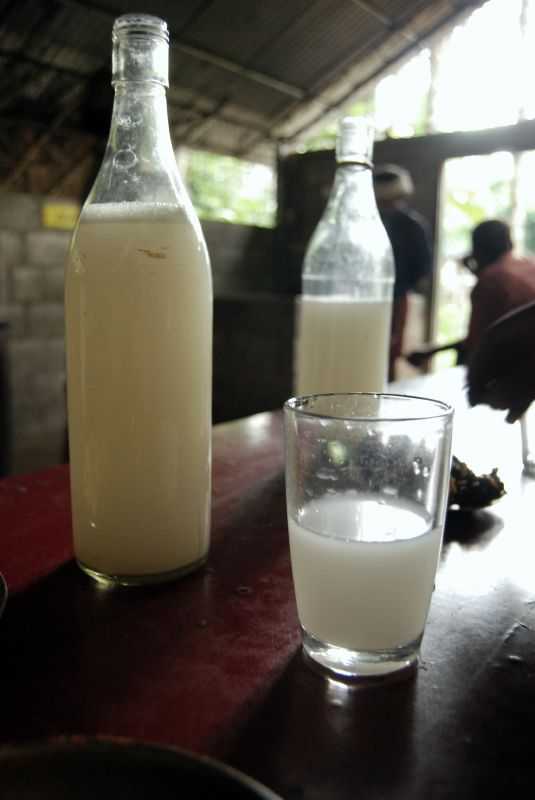 Kallu or coconut toddy is an exotic drink prepared from tender coconut in Kerala. It is of two kinds- sour and sweet. The sweet kallu is very much refreshing while the locals ferment it to make arrack or the sour kallu (around 8% alcohol content) which is similar to the North Indian drink 'bhang'. The local prepare vinegar, palm jaggery and yeast from this palm toddy. If you are visiting Kerala, try watching the local extracting toddy from the coconut tree. It would be a very interesting experience.
Kappa and Meen Curry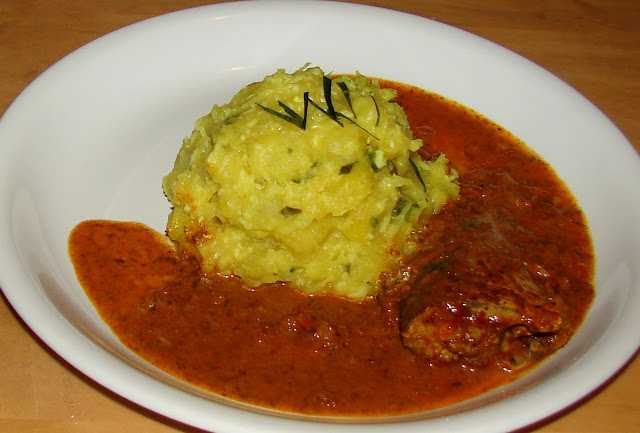 Cassava or Tapioca is referred to as Kappa in Malayalam. Kappa is boiled to form a smooth texture and then eaten with Meen (Fish) Curry. The spicy red Meen Curry with tamarind and coconut and Kappa is a staple combination in Kerala cuisine.
Mussel Stir Fry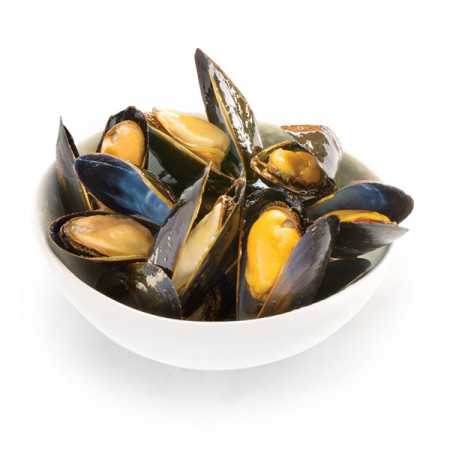 Mussel Stir Fry is eaten along with Kappa or Rice and curries as a side dish. Mussels are cooked with onions, garlic, chillies, garam masala, turmeric, salt and yes, shredded coconut.
Puttu and Kadala Curry - Traditional Food of Kerala
As cute as its name sounds, puttu is a cylindrical steamed rice cake cooked with coconut shavings. This is an extremely popular breakfast item and staple food of Kerala. This Kerala food item is usually served with kadala curry which is essentially black chickpeas but can be eaten in whichever way it tastes good!
Appam with Stew - One of The Most Popular Kerala Food Items
Ask anybody from Kerala what their favourite dish is from back home and they will swear by appam and stew! I think it's justified for them to do so because appam is just something that seems to be a revolution in the food world. It is a rice pancake with a soft and thick centre and a crispy, paper thin outside. No matter what you eat it with, appam will increase that dish's taste value beyond hundred! However, it is usually paired with a southern style stew where chunks of any kind of meat in smothered in a silky, rich, dreamy coconut curry which will leave you sad when it finishes.
Idiyappam
Idiyappam is basically made of rice flour, water and salt. Numerous strands of vermicelli are entwined together to make this version of an appam. Also known as noolappam, this Kerala dish can be paired with any curry and still taste great!
Nadan Kozhi Varuthathu (Spicy Chicken Fry)
You can never go wrong with chicken fry! You take a chicken which is the favourite meat of 99% of the entire population and fry it! Who doesn't love fried stuff?! So, this version of a chicken fry is something that is out of this world. Served on a banana leaf, the chicken is fried with onion, garlic, chilli, vinegar and coriander. The fiery taste of this popular Kerala food item on your tongue will leave you craving for more!
Kerala Prawn Curry
If you are in Kerala and you miss out on the phenomenal prawn curry, then your trip will remain incomplete. It's amazing how simple components in a dish come together to make something so beautiful. This traditional prawn curry is sprinkled with chilli, salt, pepper and then dipped in lots of coconut milk, jaggery and then finally finished with curry leaves. The humble coconut (in all its kinds) notches up the dish to another level on a whole!
Naadan Beef Fry or Kerala Style Beef Fry
This delicious Kerala food dish in a lot of ways, defines what Kerala is. The paralyzing flavours of this dish will make it extremely difficult to fall out of love with this place and with what it has to offer to its guests. The dish is coated with curry leaves, ginger garlic paste and mustard leaves generously.
Malabar Parota
This is a mouth-watering street food originating from the Malabar region of the coast. It has a flaky, crispy and crumbly texture which melts in your mouth and leaves behind a sweet yet savoury taste. It is an all-time favourite among all age groups!
Kerala Style Fish Molee
For a land surrounded by the sea, fish should be the most special dish. This Kerala Cuisine has that special something. Lightly fried fish made into a stew in an earthen pot has to taste good no matter what! As usual, it is made in coconut milk and kokum and spices like turmeric, pepper, cinnamon and cloves along with fresh green chillies to give it a tangy taste. The fish is usually a kingfish or a seer fish. Nevertheless, it is bound to leave you salivating.
Banana Fritters
Pazham Pori or Ethakka Appam is juicy banana fritters that are a favourite tea time snack in Kerala. They are the perfect example of simple goodness. Ripe bananas coated in plain flour and deep fried in oil. Can anything go wrong? We don't think so!
Palada Payasam
A traditional dessert, prepared during the festival of Onam or any other occasion is a simple rice pudding or kheer, made in almost all the households across Kerala. The most authentic version of this Kerala food dish is made out of rice ada (which is easily available in any Keralite grocery store), sugar, milk and ghee. After all any special occasion is incomplete without the favourite payasam!