Delicious and tempting Peshawari Ice Cream Recipe can be prepared in your kitchen with ease. You can make them as a tea time snack or can serve it in lunch or dinner. This recipe is equally loved by children and adults.
INGREDIENTS
• Corn Flour
• Sugar
• Cream
• Milk
• Pistachio Sliced
• kewra
• Gelatin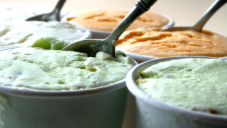 Peshawari Ice Cream Recipe
METHOD
* In a pan, heat milk.
* When it reaches its boiling point, add sugar.
* Also add dissolved cornflour in it.
* When it thickens, take the pan off the stove and let it cool.
* Mix in cream, pistachio essence, kewra and sliced pistachio in milk.
* Freeze it and serve frozen.